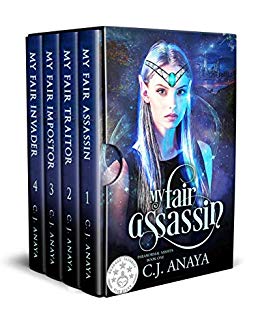 It's not every day your fated mate targets you for assassination.
A lonely foster teen meets a Fae warrior on assignment.
Crysta is freakishly different, never quite fitting in with her various foster families. Her shocking looks and creepy powers scare off potential friends, and her otherworldly presence tends to attract unwelcome and dangerous admirers. Now that she is finally on her own, her plan is to focus on dance, trust absolutely no one, and avoid the rest of humanity.
Her plans are shattered when a handsome man breaks into her apartment and declares he's there to kill her.
But Crysta isn't afraid she'll lose her life.
She's far more terrified she'll lose her heart.
As a highly skilled assassin and future heir to the Seelie throne, Prince Jareth carries the weight of the Fae realm on his shoulders. When he's given the assignment to take out one of the biggest threats the Seelie Court has ever known, he's not expecting said threat to come in the form of a petite teenager who can barely afford to feed her cat let alone mastermind the destruction of an entire world.
He's duty-bound to see this assignment through, until he realizes he's been sent to kill his fated mate.
He must follow through with his assignment or risk the wrath of his father, but killing Crysta means losing the most precious gift a Fae warrior could ever hope to receive.
The love of a fated mate.
Perfect for fans of Sarah J. Mass and her series A Court of Thorns and Roses. $1.99 on Kindle.