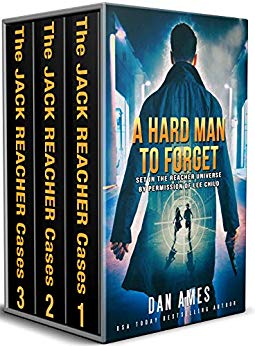 A USA Today Bestselling Series!
Set in the Jack Reacher universe by permission of Lee Child.
Book One: A HARD MAN TO FORGET. Former FBI agent Lauren Pauling met Jack Reacher in THE HARD WAY, the 10th Jack Reacher novel by Lee Child. Now, Pauling investigates the murder of a man with ties to Jack Reacher. She and her partner Michael Tallon quickly realize they're dealing with much more than a missing persons case, and soon they're in a deadly race to stop a terrifying act of mass murder.
Book Two: THE RIGHT MAN FOR REVENGE. In this fast-paced, riveting thriller, former FBI agent and current private investigator Lauren Pauling receives a mysterious message saying Jack Reacher is dead. Soon, Pauling is on the hunt for a killer and the case quickly collides with Michael Tallon, who is looking into the disappearance of a young woman. Pauling and Tallon are thrown into a sordid world of drug traffickers and professional killers.
Book Three: A MAN MADE FOR KILLING. Former FBI agent Lauren Pauling is summoned to the home of a billionaire whose daughter has died in an accident. However, he feels her death was no accident. He also claims that Jack Reacher is working on the case, and has requested Lauren Pauling's help. Pauling finds herself on a mysterious island owned by the military, trying to track down a killer, and reconnect with Jack Reacher. $0.99 on Kindle