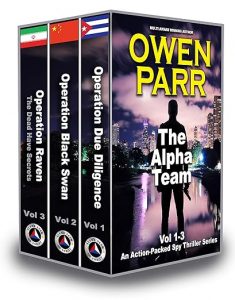 An explosive trio of International Spy Thrillers. The Alpha Team is an elite private force of former SEALS, CIA operatives, and Delta Force members working for private a company under contract to the US Department of Defense. This trio of gripping novels will keep you on the edge of your seat. From beginning to end there's no time to get bored as the incredible suspense builds. The action, the characters, and the storyline are truly compelling.
You'll be part of the action as author Parr trusts you into the team itself and interact with the eclectic and unique characters in the novels.
Operation Due Diligence
Operation Black Swan
Operation Raven
The Dead Have Secrets $6.99 on Kindle.