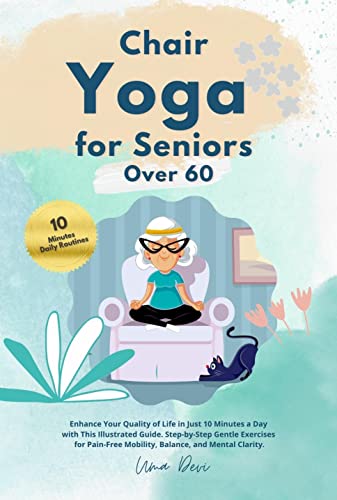 Are you seeking an enjoyable, effortless, and fast way to improve your balance, maintain your wellness, and stay active, regardless of your age or physical abilities?
Do you want a risk-free and accessible way to practice yoga from the comfort of your own home to overcome anxiety, fear, and improve your sleep?
Look no further than Chair Yoga for Seniors over 60, a comprehensive guide written by Uma Devi, a highly experienced Chair Yoga instructor with over 20 years of experience.
In this easy-to-follow book, Uma Devi has designed a program specifically for seniors who may have mobility issues or physical limitations that make traditional yoga poses challenging. With step-by-step instructions and accompanying illustrations, you'll discover a variety of gentle yoga poses that can help you improve your mobility, increase your energy levels, and promote a greater sense of vitality and rejuvenation. All this without putting undue strain on your joints.
So, get your copy today and start your journey to a more active, balanced, and healthy life. Free on Kindle.