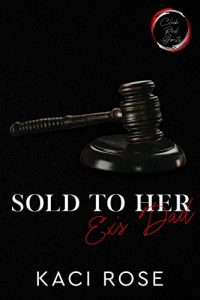 He's her ex-boyfriend's dad and she has nothing to lose. For the right bid, she can be his for the night…
Aspen
I'm a week away from losing everything if I can't pay my mom's medical bills and funeral expenses.
I'm so thankful she isn't around now to see what I'm about to do.
I'm about to auction off the last thing of value I have.
My V-card.
Evan
I'm out celebrating my friend's divorce when she walks on stage.
Aspen, my son's ex-girlfriend.
I can't take my eyes off her in barely any clothes until it hits me she is auctioning off her v-card.
When the guy at the table next to me places his bid I lose it and the next thing I know she's sitting on my bed waiting for me to make the next move.
I bought her v-card but can I actually take it without losing the only family I have left? $0.99 on Kindle.