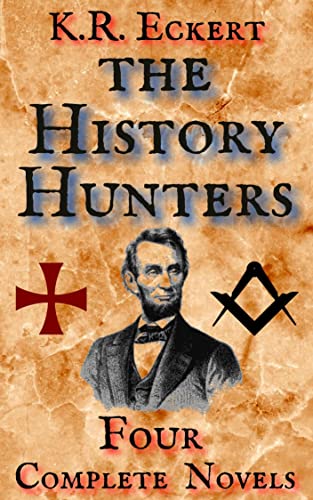 Paul Davenport and Sara Walsh are historians. Paul Davenport and Sara Walsh are adventurers. Paul Davenport and Sara Walsh are The History Hunters. Here, for the first time, four of their most daring and exotic adventures are collected together in one volume.
First, in The Templar Succession, Davenport and Walsh join with a disgraced historian to find the Treasure of the Knights Templar, and stop a cabal of would be Knights from reigniting a modern version of the Crusades.
Then, in The Gettysburg Cypher, The History Hunters are caught up in a 150 year old conspiracy rooted in the Civil War. The descendants of a long forgotten Confederate spy ring that once planned to assassinate Abraham Lincoln are plotting a new reign of terror. And only Davenport and Walsh can stop it.
In The Templar Fire, Davenport must embark on a global quest to find the True Cross in order to save an old friend from a fanatical and murderous billionaire.
Finally, in The Masonic Manuscript, Sara Walsh, the world's foremost, and most infamous, expert on the Freemasons is tasked with saving the Lodge from a conspiracy rooted in the darkest moments of its past. As she races a vengeful killer across America in search of a priceless manuscript, she discovers that everything she knows about the Lodge may be a lie. And so too may be everything she knows about herself.
If you love history, if you love thrilling adventure, if you love a good treasure hunt, you will love The History Hunters. $1.99 on Kindle.