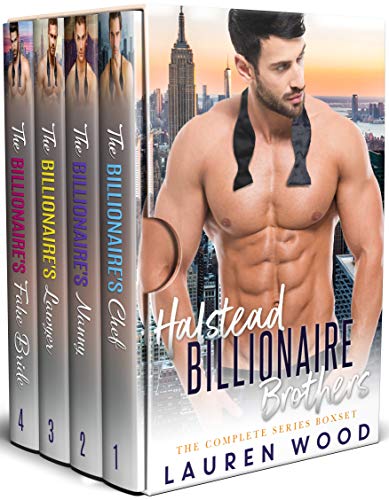 "Don't do it.
Don't drool over him.
It's a mistake.
He's going to be your boss."
With a teasing smile, deep voice, expensive suit and perfectly chiselled abs. It's enough to melt your soul. Halstead Billionaire Brothers will make your brains go out the window.
The Billionaire's Chef
Falling for a sexy legend has consequences.
Serious consequences.
Especially when that sexy God is your boss.
Yeah…
The Billionaire's Nanny
After everything I'd been through,
the last thing I needed was to fall for another man…
Especially when that man just hired me as his nanny.
The Billionaire's Lawyer
If temptation had a name, it would be Eric Halstead.
Powerful, sexy-as-hell billionaire and my romantic nemesis.
He's the one man responsible for the worst date of my life,
And the only person that stands between me and my dream job.
The Billionaire's Fake Bride
They say you shouldn't fake it…
But with half a million dollars on the line,
I'd do just about anything to fix my possible eviction and empty bank account.
Even if that means marrying billionaire playboy Jesse Halstead. $0.99 on Kindle.